About 911 Restoration Albuquerque
Meet the Owners: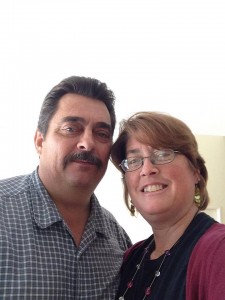 911 Restoration Albuquerque is a family business run by Doug and Therese Cooper with help from their three sons. Together they all bring the same dedication to each job they take on as they devote to each other.
This enhances the quality of the care they provide not only in the high level of attention given to each job, but also in the exceptional customer service skills they provide to property owners during their emergencies.
Doug is a pillar in the restoration world, with experience cleaning and repairing everything from carpets to upholstery, tile, grout and even furniture.
He brings an extraordinary level of experience to all of his projects, having worked in the industry since the early 1980's.
Before starting his own 911 Restoration branch with his wife Therese and their three sons, Doug owned a small carpet cleaning business in Moriarty which he still operates for his extremely loyal and satisfied customers.
If your home is in need of a good carpet cleaning, or has experienced any type of water damage, then give Doug and Therese a call today for immediate assistance!
Tricks Of The Trade: Stain Removal
With his decades of experience in the carpet cleaning and restoration industry, Doug has a few solid tricks to get those pesky spills out before they turn into permanent stains.
If you happen to spill something on your carpet DO NOT wipe it up. Instead blot at the spill first with a dry rag to absorb as much of the liquid as possible.
Next, treat the spill with any standard carpet cleaner by spraying or pouring it onto the spill and then letting it sit for a few minutes to absorb the stain.
After this, blot with another dry rag to get out the carpet cleaner and any remaining spilled liquid. Finally rinse the whole area with warm water. If the stain persists, then repeat this process a few more times for the best results.
This trick works best when the spill is fresh, so try to get at these incidents as quickly as possible.
In addition to remedying fresh spills, Doug is also more than willing to come and remove any existing stains that your carpet may have too. Beyond this Doug can also pre-treat, power vacuum, and repair most carpeting, upholstery and other fabric issues.
Decontaminating A Daycare For The Kids after Water Damage
One of the jobs that Doug has done recently was for a daycare that badly needed help on multiple levels, including garbage removal and an unrecognizable carpet that kids shouldn't be playing on.
"When I took the call the manager of the daycare said that it was a little more than 500 square feet," Doug says, "but when I got there, it was more like 2,000 square feet and filled with debris. It was a disaster."
Doug knew that the daycare badly needed attention so that the kids could play freely without
worry, but the job was much larger than he had planned for.
Despite this Doug took on the job and got to work. Five hours later, he and his sons had cleaned up all of the debris, vacuumed every square inch, and even finished up a massive water damage carpet cleaning process to make the place look brand new again.