Water Damage Restoration in Albuquerque
Chances are, if you ask someone why they moved to Albuquerque, they'll tell you 'the weather' had something to do with it. Residents in the cities of Albuquerque, Rio Rancho, Valencia, and the surrounding areas enjoy warmth and sunshine most days out of the year. New Mexico also features a variety of stunning architecture, both modern and historic. Unfortunately, it also experiences heat spells and intense storms that lead to expensive, disruptive property damage caused by water and more.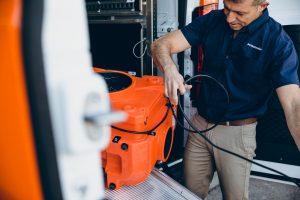 Despite the low humidity of this desert climate, water damage is one of the most common issues property owners face, and the Albuquerque area is no exception. If you don't clean your rain gutters or check the hoses on your appliances regularly, leaks can happen at any time. Additionally, New Mexico often has severe thunderstorms. The high winds and large hail from these storms do significant damage to homes and businesses in the Albuquerque area.
Get in Touch with Restoration Experts
When your property has an issue, it can be not easy to know where to turn for help. If you're on a budget, you might try to fix the problem yourself. Unfortunately, improper water damage restoration will only cost you more time and money in the long run.
When you need water damage restoration in Albuquerque or a professional water extraction company, trust our expert staff at 911 Restoration of Albuquerque. With over 180 branches and counting, not to mention over 30 years of experience, we're one of the top restoration companies in the country. We provide our customers with
24/7/365 service

45-minute response time

Free visual inspection (for property owners only)

And more
When the worst happens, don't risk the well-being of your home or business. Give our team at 911 Restoration a call for water damage restoration service in Albuquerque and so much more. Call us 505-225-2254 today!!!
Do You Have Mold From Water Damage?
Unless you hire a professional water extraction company, you could still have moisture inside your building after flooding, a leak, or another emergency. Excess water combined with insufficient air flow creates ideal conditions for mildew growth. If you don't fix a leak quickly, or you don't properly ventilate the areas where water accumulates – like kitchens, bathrooms, and laundry rooms – your property could develop a mold problem.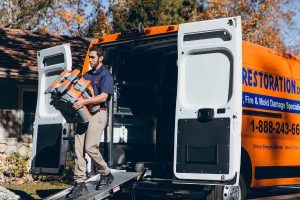 Allergies, respiratory issues, and bad odors are just some of the ways mold negatively impacts your home or business. Mold thrives in dark and damp conditions. It spreads inside walls or under floors, making it difficult to find and even more difficult to remove. 
Our certified experts tackle mold decontamination from start to finish. If you notice a musty, unpleasant smell under your sink crawl space after a pipe burst, we do mold inspection and odor removal as well as Albuquerque flood cleanup. Since mildew can pose serious health risks for you and your building's inhabitants, we do third party testing with labs to put your mind at ease. We also remove any carpets, flooring, or other materials affected by mold or water damage. 
When you need professional mold remediation in Albuquerque, give our team at 911 Restoration of Albuquerque a call. The Albuquerque office is open 24/7/365 at 505-225-2254!
When You Need Water Damage Help, Trust an Expert 
You might think the leak from your faucet is easy to fix yourself. Maybe you don't want to spend the time or money to hire someone else to do repairs. Rather than use a professional water damage service in Albuquerque, you figure a fan will dry out the area under your sink. 
Unfortunately, using a fan to remove water from your building isn't enough. In addition to causing mold outbreaks, water from appliances, pipes, or a sewage backup creates unsafe conditions inside your property. That's why our water damage restoration process also includes professional sanitization and mold inspection. We approach the problem from every angle in order to offer complete, effective solutions. 
When you have an emergency on your property, the last thing you should worry about is time or money. That's why we give all our customers a free estimate before we provide services like water damage restoration or mold removal. During all repairs, we work with your schedule and budget, and we'll even handle your insurance claim.
Because we offer full-service commercial and residential restoration, you never have to worry about hiring multiple companies to fix your property. At 911 Restoration of Albuquerque, we handle water removal, mold decontamination, disaster restoration, and more, so you don't have to.
When you need expert service, creative solutions to a recurring problem, or just need a fresh start for your property, give our IICRC-certified professionals at 911 Restoration a call.  Please call us at 505-225-2254
Serving the communities of Albuquerque, Barelas, Bernalillo, Coralles, Los Lunas, Los Ranchos, Rio Rancho, North Valley, Sandia, Sandia Pueblo, Sandia Heights, South Valley,Taylor Ranch, Valencia and surrounding areas.