Water Damage and Mold Removal in Rio Rancho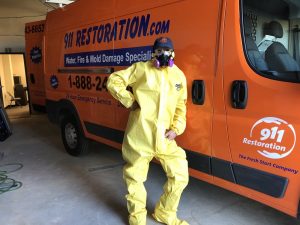 You can get same-day water damage restoration and mold removal services in Rio Rancho by contacting 911 Restoration of Albuquerque. Our crew of IICRC certified flood cleanup crews are on-call 24/7/265. We can reach your property within 45 minutes of an emergency call. Let us work to give you a Fresh Start by:
Quickly Beginning Water Extraction

Completing a Water Damage and Mold Inspection

Focusing on Drying and Dehumidifying Your Property

Repairing Structural Damage to Your Home or Business

Handling All Aspects of Mold Remediation
You can count on us to take care of comprehensive water damage restoration and mold decontamination in Rio Rancho. Our flood cleanup techs will always put your peace of mind first as they take care of renovating and repairing your property.
Take the first step in getting back your peace of mind after a flood, storm, or pipe burst in Rio Rancho by contacting us immediately. Crews are ready to start offering you help with leaking pipes, ice dams, hail damage, and more.
Can You Get Local Flood Damage Cleanup in Rio Rancho?
It's important that you begin flood cleanup in Rio Rancho as quickly as possible after a pipe burst or a flood. This is because water can continue to damage your property the longer it is allowed to remain. Fortunately, you can get fast help from the local pros at 911 Restoration of Albuquerque.
Rio Rancho water damage restoration and mold removal techs can reach your property in under an hour to start water extraction, drying, and dehumidification. Techs can complete a fast water damage and mold inspection to assess all the damage to your property.
Let us design a personalized flood cleanup and mold remediation plan to meet your unique needs. Our crews can take care of flood repair, water cleanup, mold decontamination, and disaster cleanup. You can contact us if you need help with a sewage backup, a pipe burst, or any other water damage emergency.
What Do Rio Rancho Mold Remediation Experts Do?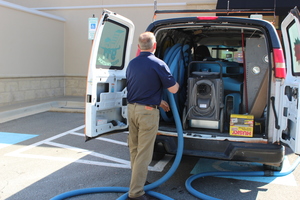 Mold remediation experts in Rio Rancho can remove all traces of a fungal infestation from your property. You may require mold removal services after a flood or a pipe burst, as excess moisture often leads to mold growth. Rio Rancho water damage restoration and mold remediation techs can:
Isolate Areas Experiencing Mold Growth

Remove Mold Spores with Air Filters

Scrub Down Areas Exposed to Fungus

Take Care of Odor Removal and Mold Decontamination
Handling flood cleanup and mold decontamination in Rio Rancho can be easy. Let us assess your mold removal needs with a mold inspection today. Crews can also perform a final mold inspection in Rio Rancho after they finish restoring your property. This can ensure that your property has been returned to better-than-new condition, so you can get a Fresh Start.
Servicing the cities of Albuquerque, Barelas, Bernalillo, Coralles, Los Lunas, Los Ranchos, Rio Rancho, North Valley, Sandia, Sandia Pueblo, Sandia Heights, South Valley, Taylor Ranch, Valencia… and surrounding areas.