Fire Damage Restoration Albuquerque
Solving the many different challenges presented by a business or a house fire is a monumental task and this is why the job is best left to professionals such as 911 water restoration owners Doug and Therese Cooper and their fire restoration contractors.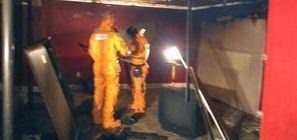 When it comes to a fire and the effects it can have on a home, the damages can be far-reaching and long-lasting if professional restoration services aren't used immediately, including water damage scenarios in the aftermath. This is why Doug, Therese, and the fire damage restoration team out of Albuquerque can be at the scene of the challenge within 45 minutes to begin stabilizing the situation.
Get immediate Fire Damage Support from our Experts
"We are also available 24/7/365 at 505-225-2254 so that whenever a fire occurs, we can be there to help people get through it and back to life as normal in no time," Doug says.
"It is always our goal to provide people and their homes with the best, and to do so as fast as we can so they can get on with their lives in the home they love."
Not only will Doug, Therese, and the fire damage restoration team from Albuquerque get to the scene of the event quickly, but we will also with IICRC-certified workers. We will also bring all of the latest technology, equipment, and techniques to the scene so that they are completely mobilized and prepared for anything.
If your home has already had a fire take place, and you want the effects of it and the water damage that resulted from extinguishing it eliminated by the best, then contact Doug, Therese, and the fire damage restoration team with 911 Restoration Albuquerque today!
What to Expect When You Experience A House Fire
Most people think that when a fire takes place that it will only affect the space that it took place in. but in all reality, the effects of the smoke and fire can spread throughout an entire property.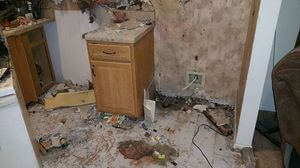 The smoke that the fire creates can be just as damaging as the flames. It can stain the ceiling, walls, flooring, and your personal property, which can sometimes be permanent. In this case, any affected furniture and textiles would have to be replaced.
"People don't realize it, but the ventilation systems that run through their home or business will also transport smoke, soot, ash, and airborne particulate to every corner of the building," Therese says.
"This can form a layer covering everything and contain anything from irradiated material to poisonous and cancerous chemicals that are truly unsafe."
Why you Should Contact Your Restoration Professionals
Fires in the home or business can many times involve large quantities of water damage in addition to the fire damage. This can be caused by the water used by the fire company to put out the initial fire.
If left unchecked, water from a fire can turn into mold colonies and fungus infestations within a time span of fewer than 48 hours in some cases.
Fires can infuse ordinary household materials such as carpets, clothing, and furniture into potentially harmful harbingers. Toxic chemicals and compounds may impair one's health without the proper safety equipment.
Fire incidents are almost always covered by different provisions of homeowners insurance. One should expect to have a fire damage restoration in Albuquerque take place over a time span of a week, or a year in the most extreme scenarios.
"This is not a full list of everything that can be expected from a fire damage restoration scenario. If anyone has questions or concerns that aren't listed here, they should absolutely contact us to learn more," Doug says.
If your home or store has already gone through a fire damage event, and you want the effects eliminated by the best in the industry, then contact Doug, Therese, and the fire damage restoration team with 911 Restoration Albuquerque today! Call us at 505-225-2254 and see how we can help you.
Damage From A Grease Fire Requires Soot Removal and Restoration
Doug and Therese have taken on projects related to fires that are both big and small, near and far. All challenges that each specific incident poses, they are well equipped for. They have become the go-to source for people in the area for fire damage.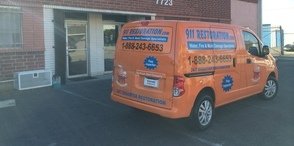 "Our most recent job was actually a fire damage project in a senior living community," Doug Says. "The homeowner was cooking up some hamburgers and while flipping one, it caught the pan on fire, and the grease in the pan flared up and spread soot all over the kitchen walls."
This homeowner was quick enough to act and smart in doing so by putting the fire out with baking soda instead of water which would have made the flames more intense, so this situation was mostly cosmetic and did not cause any extensive property damage.
"We came right over and took care of the soot throughout the kitchen, and then we even cleaned up the stove too," Therese says. "We try to give people our level best, and for this project that meant making her home clean again after her fire."

If your home has had a grease fire or any other means of soot or smoke transfer and you want it taken care of properly by the best, then don't hesitate to contact Doug, Therese, and the IICRC-certified fire damage technicians with 911 Restoration Albuquerque today! Please call 911 Restoration near me at 505-225-2254