Water Damage in Albuquerque
Weather Alert: If you are experiencing weather-related damage from the storm, call us today for emergency assistance! 
911 Restoration of Albuquerque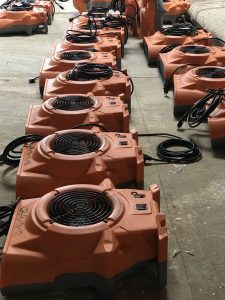 When water damage in Albuquerque occurs at your residential or commercial property, it can be extremely stressful. Property damage comes in many forms ranging from water damage, fire damage, mold removal in Albuquerque, sewage backup, and storm damage. Despite the cause behind your property's damage, there is a local restoration company ready to get you back to your pre-damage condition. 911 Restoration of Albuquerque is ready to offer residents and business owners throughout the area peace of mind and total property restoration when disaster strikes.
The water damage pros at 911 Restoration of Albuquerque are available 24/7, 365 days per year. We provide same-day water cleanup services that allow you to avoid a massive amount of loss and will respond within 45 minutes of your call. Once on-site, technicians will begin by assessing the property's damage to determine the best water damage restoration services. From there, water damage cleanup will begin. Call us at (505) 225-2254 and allow us to offer you a free visual inspection.

If you require emergency disaster restoration, 911 Restoration is here for you. We are open 24/7 and have a 45 min ETA.
At 911 Restoration of Albuquerque, we offer a Fresh Start with our comprehensive selection of property damage restoration services, including but not limited to:
Whether you're a New Mexico homeowner or business owner, 911 Restoration of Albuquerque is your Fresh Start! We'll communicate with you throughout the entire process, help answer questions related to insurance, and restore your property to its pre-damaged condition. One of our IICRC-certified teams is dispatched within 45 minutes of your call! Contact us today, and one of our friendly representatives will assist you in finding the nearest New Mexico location.
Justin Schroer
"Doug Cooper worked hard to get mold removed, plumbing fixed and the reconstruction of our bathroom completed in a very short time so we could get our house back on the market. I also appreciate his constant communication via text and photos to let me know how the projects were going. I would use him and recommend him again."
Water Damage Restoration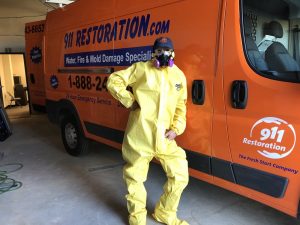 Water damage inside of a property can be the result of problems such as pipe bursts, ceiling damage, sewage backup, frozen pipes, and faulty appliances. When dealing with water damage in Albuquerque, it is important to reach out to a restoration company quickly in order to keep damage to a minimum. The water damage restoration pros use top-of-the-line equipment to clean up all traces of moisture that may have entered your residential or commercial property. Call us at (505) 225-2254 and see how we can help.

At 911 restoration, our technicians have received extensive training regarding water damage restoration services such as:
Water extraction

Broken pipe repair

Backflow pipe burst repair

Carpet water damage repair

Water damage cleanup

Flood repair

Frozen pipe repair

Crawl space cleanup

Wall repair after a leak

Burst pipe repairs

Flood cleanup

And more
Call 911 Restoration if you notice any signs of a water invasion, such as water stains or leaking pipes. Our experts will go the extra mile to make your property a safe place again and restore your peace of mind.
Service area map
Sanitization Services & Disinfection Solutions
Whether you're a business or an individual, there's no escaping the challenges the coronavirus pandemic brings. At this point, the pandemic has achieved global exposure. That's why it's important to understand how important it is for all of us to do our part. This type of problem requires everyone to band together to contain this problem so the virus doesn't spread any further. One of the things this pandemic has demonstrated is the need to stay clean.
All property owners have the responsibility to keep their buildings clean and sanitized. More importantly, they need to ensure that anyone who comes into contact with said building remains protected at all times. For this reason, 911 Restoration of Alburquerque is standing by ready to deliver professional sanitization services for both residential and commercial properties. Every technician is trained to follow the current CDC and EPA guidelines to ensure that every protocol is met. This situation affects everyone. Trust in us to deliver the peace of mind you need.
Mold Removal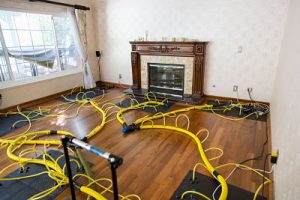 When mold infestations strike, they pose the threat of causing harmful effects to those exposed to it. What may seem like a harmless infestation could in fact be a more severe problem, like black mold. Due to the risks associated with these infestations, it is important to call the mold experts at 911 Restoration of Albuquerque.
Our experts have the tools and safety equipment necessary to safely offer mold inspection services. Your safety is our number one concern, which is why the mold removal pros always respond quickly to water emergencies. 
If you have noticed mold on the walls or suspect an infestation has made its way into your property, contact the mold removal experts at 911 Restoration at (505) 225-2254. We offer free visual inspections for property owners only, along with a handful of benefits that are tailored to create a seamless mold cleanup experience.
Sewage Backup Cleanup
Many property owners often underestimate the danger and harm that sewage backup water can contain. For this reason, it is important to leave the sewage cleanup process to the water damage pros at 911 Restoration.
The highly trained IICRC technicians have the skills and techniques needed to apply water cleanup and water removal services in a safe, yet effective manner. You can rest assured knowing your Albuquerque property is in good hands and total property restoration is on the way. Call 911 Restoration immediately after this type of sewage overflow occurs and our pros will start the remediation process right away.
Fire Damage Restoration
While property damage can come in many forms, fire damage can be the most devastating. Oftentimes, the aftermath of fire leaves behind property damage and emotional trauma. Once the fire trucks are gone, the water damage from firefighting efforts can be overwhelming. Our fire damage restoration techs want to be your first choice for efficient fire and smoke renovation services.
We are completely mobile and travel with all the gear needed to begin remediation procedures the moment we arrive on the scene. Our house fire Albuquerque damage restoration techs will clean up smoke stains, odor, ash, char, and water damage caused by firefighting efforts. In addition to restoration services, our experts will work with your insurance company to help during this stressful time. Contact 911 Restoration of Albuquerque to receive fire damage restoration services from a company that cares and understands your needs.
Disaster Restoration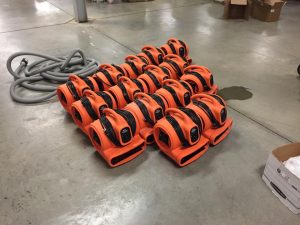 Unfortunately, we don't always have the luxury of being prepared for mother nature and its side effects. Property owners can experience strong winds from storms,  heavy snows that can cause frozen pipes, and floods that leave behind water damage. At 911 Restoration, our disaster restoration experts are ready to respond when mother nature strikes.
By the time our restoration experts leave the property, it will be better than new. In order to provide Albuquerque area residents and business owners the highest level of service in the industry, we treat each project as if it were our own.
We want property owners to feel as confident in our restoration services as we do. The highly-trained technicians will work alongside you from start until finish.  Not only does 911 Restoration provide world-class customer service, but we give you peace of mind and property that is back to pre-damage condition.
Comprehensive Property Restoration Services in Albuquerque
Our IICRC-certified technicians are qualified to provide comprehensive services such as:
Remediation of all water damage

Blackwater cleanup

Fungi and mold infestation decontamination

Mildew deodorization

Deodorization services

Water extraction and drying

Toilet overflow sanitization

Mold spore testing services

Flood repair

Pipe burst repair

Cleanup of tar and ash residue

Smoke stain cleanup and odor removal

Overall comprehensive disaster restoration
Property damage comes in many forms, each of which the IICRC- certified experts at 911 Restoration of Albuquerque are equipped to handle. Whether you require water damage restoration services from a broken water pipe or have recently experienced a fire and need odor removal services, we are prepared to help.
Get the Fresh Start you deserve by calling 911 Restoration of Albuquerque.
Serving the communities of Albuquerque, Barelas, Bernalillo, Coralles, Los Lunas, Los Ranchos, Rio Rancho, North Valley, Sandia, Sandia Pueblo, Sandia Heights, South Valley,Taylor Ranch, Valencia and surrounding areas.