Mold Removal in Albuquerque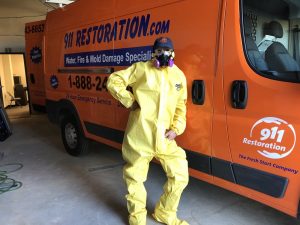 Are you dealing with a mold infestation in your home or business in Albuquerque? If so, you can get professional help from IICRC certified mold removal techs. Just contact 911 Restoration of Albuquerque to get the Fresh Start you deserve. Our mold remediation techs are on-call 24/7/365 and they can reach your property within 45 minutes to:
Perform a Free Mold Inspection for Property Owners Only

Assess the Underlying Causes of Your Mold Infestation

Isolate All Areas Experiencing Mold Growth

Clean Up Items Exposed to Fungus

Scrub Down Your Home or Business

Remove Odors Caused by Mold
Here at 911 Restoration of Albuquerque, we believe that you deserve personalized help with mold decontamination. Techs will develop a specialized mold cleanup plan based on the results of your mold inspection. This allows us to ensure that your property is restored quickly and properly.
Take charge of your future after you experience a fungal infestation. Let our licensed, bonded, and insured mold remediation crews get to work for you right now.
Are There Mold Decontamination Specialists Near You?
It's important that you begin mold remediation in Albuquerque as quickly as possible. Mold will continue to damage your property if it is not removed. It can also negatively impact your health. Fortunately, you can get fast help by contacting a local mold removal company.
The professionally trained and experienced mold removal techs at 911 Restoration of Albuquerque can reach your home or business within 45 minutes of an emergency. Once they arrive, techs can offer same day mold remediation services in Albuquerque.
Let us determine the best way to handle your mold infestation by performing a mold inspection right now. Crews can also work to find out what caused your mold inspection. In many cases, a water damage event like a flood or a pipe burst will cause mold to spread in your home or business.
The mold decontamination techs at 911 Restoration of Albuquerque can handle flood cleanup and water extraction for you, reducing the odds that you will face another mold infestation in the future.
How Long Will Albuquerque Mold Cleanup Take?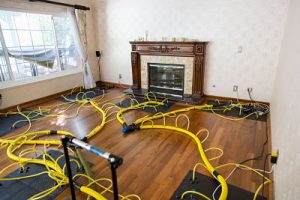 Here at 911 Restoration of Albuquerque, we understand that you want your property to be returned to better-than-new condition as quickly as possible after a mold infestation. Generally, Albuquerque mold removal techs can complete their work within 1-to-5 days.
However, you should be aware that mold remediation may take longer in some situations. Techs can provide you with a more exact time-frame after they complete your mold inspection in Albuquerque. Completion of mold cleanup may require crews to:
Dehumidify Your Property

Repair Leaking Pipes and Other Water Damage

Scrub Down All Surfaces Exposed to Mold

Handle Total Mold Decontamination in Albuquerque
Let Albuquerque mold cleanup crews handle all of your needs after you discover signs of a mold infestation. Techs at 911 Restoration of Albuquerque can deal with any type of mold infestation. It doesn't matter how large or small your problem is, we're here to help you get a Fresh Start.
Servicing the cities of Albuquerque, Barelas, Bernalillo, Coralles, Los Lunas, Los Ranchos, Rio Rancho, North Valley, Sandia, Sandia Pueblo, Sandia Heights, South Valley, Taylor Ranch, Valencia… and surrounding areas.