Mold Removal in Sandia Heights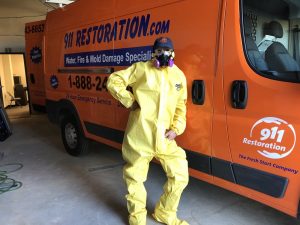 Did you spot mold growth in your home or business in Sandia Heights? You can take care of mold removal and get a Fresh Start in this situation by contacting 911 Restoration of Albuquerque right now. You can call our IICRC certified mold remediation experts 24/7/365 to get the help you need, starting with a mold inspection. Crews can reach your property within 45 minutes of your call. Once they arrive, they can:
Assess Your Needs with a Mold Inspection

Track Down Hard to Locate Mold

Stop Mold from Spreading Further into Your Property

Begin Immediate Mold Cleanup and Mold Decontamination

Repair the Source of Your Mold Infestation
The mold cleanup pros at 911 Restoration of Albuquerque can develop a personalized restoration plan for your property based on the results of your mold inspection. Sandia Heights mold removal techs also have the experience and equipment to take care of the underlying causes of a mold outbreak, reducing the odds that you will face additional mold problems in the future.
How Long Does Sandia Heights Mold Remediation Take?
Here at 911 Restoration of Albuquerque, we understand that you want mold remediation to be completed as quickly as possible. That's why our Sandia Heights mold cleanup techs spring into action to offer you same-day services. They can often finish mold decontamination within 1-5 days.
However, you should be aware that the mold remediation process may take longer in some situations. Total time for mold cleanup can depend upon the locations where mold is growing in your property as well as the type of mold you are dealing with.
Mold removal experts can perform a mold inspection in Sandia Heights to provide you with a more accurate estimate about the time mold cleanup will take. Let us assess your needs and start working to completely restore your home or business right now, so you can get back your peace of mind quickly.
Can You Take Care of Mold Decontamination in Sandia Heights?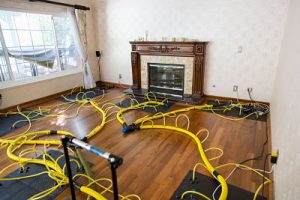 Some property owners consider taking on mold decontamination on their own. However, it is often a better idea to get help from mold removal experts, as:
Mold Can Grow in Hidden Places, Including Under Floors and Behind Walls

Some Forms of Mold Are Toxic and They Can Make Your Very Ill

Professional Help is Often Needed to Completely Remove Odors and Mold Stains
Additionally, working with Sandia Heights mold remediation experts can ensure that the underlying causes of your mold infestation are addressed. The professionals at 911 Restoration of Albuquerque can take care of dehumidifying your property while they deal with mold decontamination.
Let us handle all of your property restoration needs promptly and correctly the first time. We are standing by to deal with mold removal, flood cleanup, and any other property restoration needs you have here in Sandia Heights.
Servicing the cities of Albuquerque, Barelas, Bernalillo, Coralles, Los Lunas, Los Ranchos, Rio Rancho, North Valley, Sandia, Sandia Pueblo, Sandia Heights, South Valley, Taylor Ranch, Valencia… and surrounding areas.