Mold Removal in Los Lunas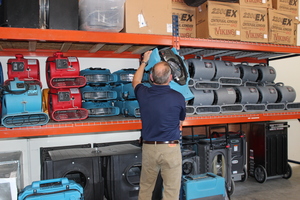 You don't have to try to deal with a mold infestation on your own in Los Lunas. Professional help is only 45 minutes away when you call 911 Restoration of Albuquerque. IICRC certified mold removal techs are on-call 24/7/365. Crews can reach your property fast, so you can get the Fresh Start that you deserve. Reach out to us now for help with:
Commercial Mold Removal

Residential Mold Removal
Los Lunas mold remediation techs have the training and experience to deal with any type of mold infestation. We know what it takes to handle toxic mold cleanup and odor removal after a mold infestation.
Let us perform a mold inspection for you today so that crews can assess your unique situation. All mold decontamination techs are licensed, bonded, and insured to handle your unique needs promptly and thoroughly the first time.
Los Lunas mold cleanup techs can work to determine what caused your mold outbreak. Find out more about how we can help you get back your peace of mind by contacting us right now.
What Happens During Mold Remediation in Los Lunas?
It's natural to have questions about the mold remediation process in Los Lunas. Here at 911 Restoration of Albuquerque, we believe that every mold infestation deserves personalized care. However, there are some common steps to mold decontamination that you may see during the cleanup process. Techs will often:
Complete a Free Visual Mold Inspection for Property Owners Only

Set Up Plastic Sheeting to Isolate Areas Experiencing Mold Growth

Remove Mold Spores with Air Filters

Repair Water Damage to Your Property

Use Dehumidifiers to Remove All Moisture

Clean and Disinfect Items Exposed to Mold

Handle Odor Removal with Mold Decontamination

Perform a Final Mold Inspection to Ensure Your Property is in Perfect Condition
Getting professional help from mold cleanup experts can reduce the overall time it will take to renovate and restore your property. Reach out to us today to get started.
Will You Have to Leave During Los Lunas Mold Cleanup?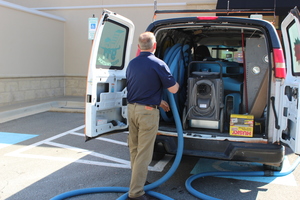 There are many misconceptions surrounding the process of mold remediation. For example, many property owners believe they will have to leave their home or business, sometimes for a lengthy period of time. In fact, you can remain on your property in many situations.
Los Lunas mold removal techs can set up plastic sheeting and negative air pressure machines to isolate areas of your property experiencing mold growth. This allows us to complete mold remediation while limiting the disruption to your life.
We understand that you can't just put your life on hold during mold decontamination in Los Lunas. That's why mold cleanup techs will work with you to limit your stress as they complete mold removal. Find out more about how we can help you by allowing us to complete a mold inspection in Los Lunas right now.
Servicing the cities of Albuquerque, Barelas, Bernalillo, Coralles, Los Lunas, Los Ranchos, Rio Rancho, North Valley, Sandia, Sandia Pueblo, Sandia Heights, South Valley, Taylor Ranch, Valencia… and surrounding areas.