Natural Disaster Restoration: Wildfire Evacuation Checklist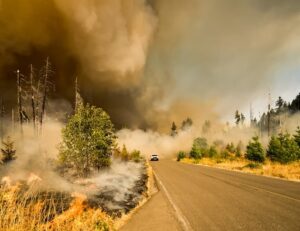 The changing climate has brought forth numerous disasters and a dire need for natural disaster restoration. Albuquerque recently had to face one of the worse wildfires in history, burning more than 121,277 acres of New Mexico land. 
This has created very hazardous conditions for residents and tourists, even if the fires themselves are far away. If you live in the countryside, you may have to worry about the fire damage to your home, but if you are a resident in urban cities, the risk of smoke damage is still prevalent for you. 
Unfortunately, New Mexico (particularly Albuquerque) residents are not ready for an evacuation order in case of wildfires, nor are they ready to mitigate the risk of fire damage to their homes. In this article, we will take a closer look at what you may need to keep in mind when evaluating your home in case of wildfires and how you can use natural disaster restoration companies to your advantage. 
Natural Disaster Restoration/Safety – Wildfire Checklist
One of the most important considerations to make is when you should evacuate your residents. When the threat of wildfires becomes prevalent (for 2022, the wildfire season is from January to April), keep an eye out for evacuation warnings. Keep the TV or radio close by or keep checking the local news channel social media page for the order. 
Some evacuation orders may be optional, but we suggest that you treat every order seriously and think about the order hard before ignoring it. The goal is safety. With the right steps, your property will remain safe – and if it really does get damaged, insurance providers and the right natural disaster restoration company can help. 
You can track wildfires with a range of different websites and applications or call 911 Restoration for more information. 
Creating an Emergency Supply Kit
Here are some items that you should include in your emergency supply kit just to be safe. 
Face mask

At least three days of food. If you are storing more food, make sure it is canned or pickled

Blankets

First-aid supplies

Clothes

Flashlight

Map

Keys

Wallet

Important documents

Bank statements

IRS statement

Birth certificates

Investment certificates

Medical records

Credit/debit cards

Medication

Glasses

License

Passport

Computer backup/hard drives

Laptop

Electronic equipment charger

Address book

Contact list

Family heirlooms and photographs

Sanitary supplies
Preparing Your Vehicle
In anticipation of an evacuation order, check your car to make sure it won't break down mid-evacuation. Yes, authorities will help you when this happens, but remember that they will already have their hands full with other people's needs as well. 
Fill your vehicle's gas tank and if you have a reserve, fill that up as well. However, that may not be entirely necessary. 
Take Pictures of Your Items
This will be particularly handy for you after the natural disaster restoration company is done with your home. If your home has been damaged in a wildfire, you will need to file an insurance claim as well. The images you take now will help you back your claim up and help the company evaluate what you have lost. 
You won't have time to do this while evacuating, so make sure you do this beforehand, just to be safe. 
Focus on the Essentials
Here is an extensive checklist to keep in mind (or print) before evacuating. 
cotton or wool

long pants

jacket

hat

Store gloves

Pick up basic toiletries

Tune in to local radio station(s)

Evacuate everyone who isn't helping prepare the house for fire damage mitigation beforehand

Plan several evacuation routes

Designate a safe meeting place and contact person

Relay your plans to a contact person

Notify your HOA and Humane Society for assistance with animals and pets

Set 911 on speed dial 

Close all interior doors

Leave a light on in each room

Remove curtains, carpets, and furniture from windows and keep them away from the corners

Put fire resitting drapes around the house

Close the fireplace

Block/close all doggie doors and mail slots

Turn on your sprinklers

Place outdoor furniture in the garage

Close all vents and windows

Connect all garden hoses and set them to spray

Turn off all pilot lights and gas levers

Leave doors unlocked

Leave a ladder for the fire department

Turn on exterior lights

Fill buckets and trash cans with water and place them around the house. 
The checklist above will make your house easier for the authorities to find and reduce the risk of fire considerably. However, depending on the intensity of the fire and how close you are to the nearest forest/greenery, damage may be unavoidable. 
If you find that your house has been damaged when you return, make sure you call 911 Restoration of Albuquerque immediately. Time is of the essence here as you won't be dealing with just fire damage, but with water damage and mold as well. Our IICRC certified fire experts can help you recover as much of what you lost as possible while helping you deal with insurance providers as well!