Mold Removal in Rio Rancho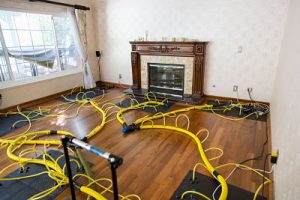 Make sure that you handle a mold outbreak in Rio Rancho quickly by contacting 911 Restoration of Albuquerque right now for mold cleanup. Our IICRC certified mold removal experts are standing by to rush out to your home or business to offer you a Fresh Start. Mold remediation pros are on-call 24/7/365 and they can:
Reach Your Home or Business Within 45 Minutes of an Emergency Call

Perform a Free Visual Mold Inspection for Property Owners Only

Determine What Caused Your Mold Infestation

Quarantine Areas Experiencing Mold Growth

Clean Up Infested Items and Dispose of Items That Cannot be Cleaned

Take Care of Odor Removal and the Removal of Ugly Discoloration
All mold cleanup crews at 911 Restoration of Albuquerque are licensed, bonded, and insured to handle your mold infestation. No job is too big or too small when it comes to mold decontamination in Rio Rancho. Get back your peace of mind after you spot mold in your home or business by calling us right away for mold removal services and a mold inspection.
Do Mold Remediation Experts Use Special Equipment?
Mold remediation in Rio Rancho often requires specialized equipment. Depending upon the situation in your home or business, mold cleanup techs may need to use:
Infrared Scanners to Locate Moist Areas with Mold Growth

Plastic Sheeting and Negative Air Pressure Machines to Isolate Mold

Personalized Protective Equipment to Protect Their Health

Air Filters to Get Rid of Insidious Mold Spores

Professional-Grade Cleaners to Disinfect Your Property
Rio Rancho mold removal techs at 911 Restoration of Albuquerque have the resources to deal with any type of mold infestation. Mold remediation crews are armed with the experience and equipment necessary to complete mold decontamination and to completely eradicate all traces of a mold infestation in your home or business.
Getting the professional help you need from mold remediation experts in Rio Rancho can limit the total damage to your property. Reach out to 911 Restoration of Albuquerque anytime in the day or night to get a Fresh Start with mold decontamination. Crews can start with a mold inspection today.
What Causes Mold Infestations in Rio Rancho?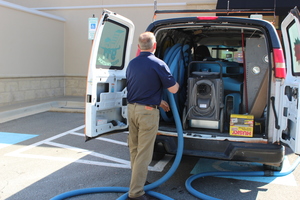 You may be wondering what caused the mold infestation in your property. A number of different factors can lead to mold outbreaks. However, a large number of mold problems are caused by water damage emergencies, such as pipe bursts or sewage backups.
911 Restoration of Albuquerque is a full-service property restoration company. This means that, in addition to handling mold cleanup in Rio Rancho, we can take care of flood cleanup and water damage restoration.
Handling water extraction quickly can actually reduce the odds that you'll face a mold infestation. Make sure you contact us right away if you are dealing with a flood, a plumbing emergency, or a mold outbreak. While handling water damage cleanup, crews can perform a mold inspection to check for fungal growth.
Our mold decontamination and water damage cleanup crews are standing by to take your call. Let mold removal professionals return your property to perfect condition so you can get back your peace of mind.
Servicing the cities of Albuquerque, Barelas, Bernalillo, Coralles, Los Lunas, Los Ranchos, Rio Rancho, North Valley, Sandia, Sandia Pueblo, Sandia Heights, South Valley, Taylor Ranch, Valencia… and surrounding areas.